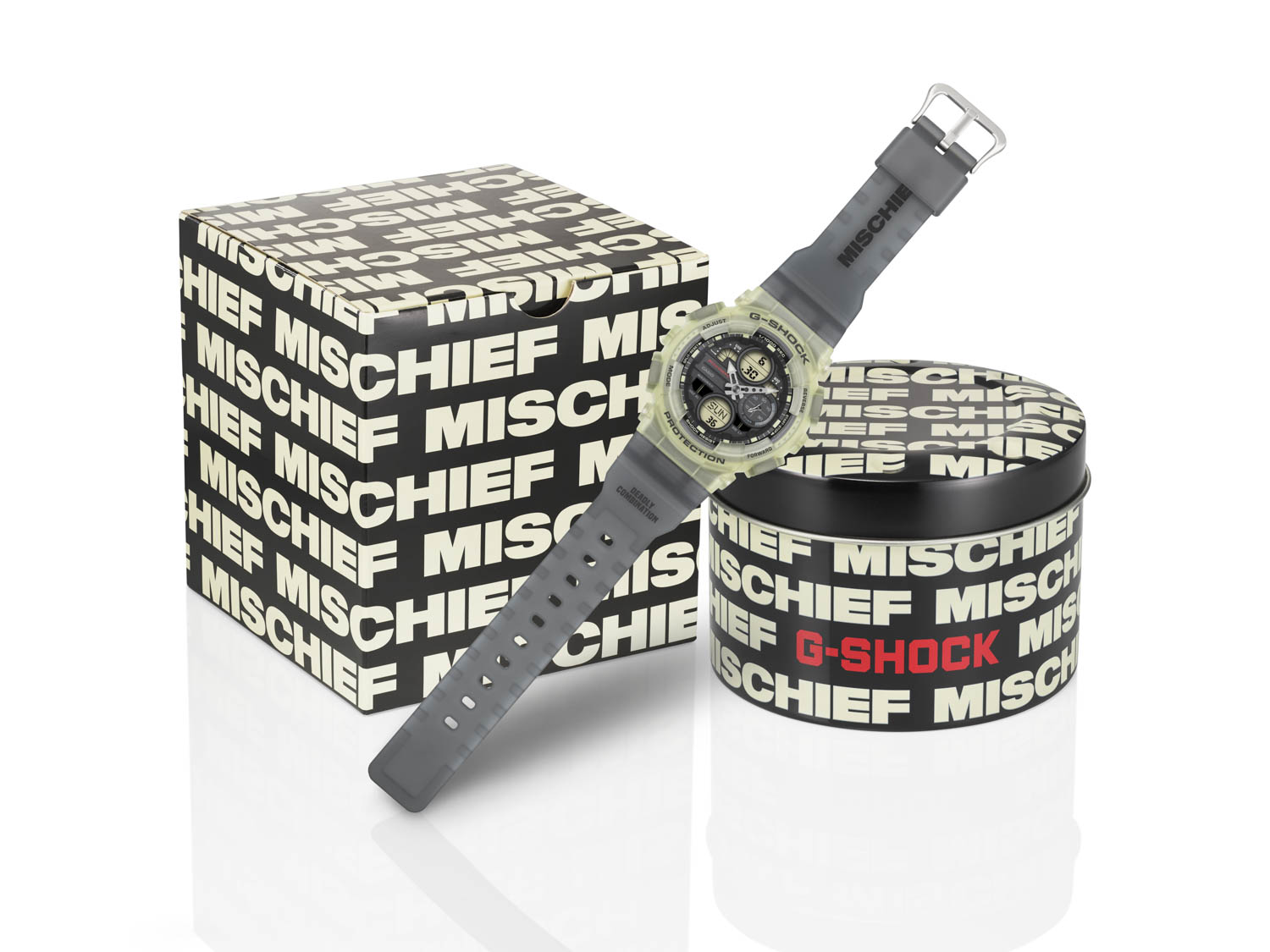 PARA PUBLICACIóN INMEDIATA:
CASIO G-SHOCK JOINS FORCES WITH STREETWEAR LABEL MISCHIEF FOR A "DEADLY COMBINATION" WOMEN'S MODEL
Limited-Edition timepiece features a 90s-inspired transparent case and band in "sun-washed coloring"
DOVER, NEW JERSEY, marzo 6, 2020
— Today, Casio
G-SHOCK
announces an all-new, limited-edition women's timepiece in collaboration with MISCHIEF, the Seoul street fashion brand that is popular throughout Asia. This collaborative model is inspired by the street fashion culture of the 90s that has become the signature style of the MISCHIEF brand along with the dial look that created the G-SHOCK boom back in the 90s. The new GMAS model showcases this nostalgic look with a transparent case and band in "sun-washed" coloring. The
GMAS140MC-1A
includes nods to the two brands that are known for their sleek, streetwear looks for women, with the MISCHIEF logo appearing on the watch face, and engraved on the back cover and band. The band clasp also comes with the unique detail of "DEADLY COMBINATION" printed on the band, celebrating the coming together of
G-SHOCK
and MISCHIEF. To finish the look of the 90s-inspired timepiece, the updated
GMAS
arrives in custom packaging that features the MISCHIEF logo printed across the box. Additionally, the
GMAS140MC-1A
arrives in the classic GMAS circular model shape and boasts large side buttons, making it easy to use for women that are always on the go. The new model also comes equipped with standard
G-SHOCK
technology such as:
Resistencia al impacto
Resistente al agua a 200 m
Cronómetro
Luz LED automática
Lap/Split Time
Temporizador de cuenta regresiva
5 alarmas diarias
12/24 Hr.Time Formats
Calendario completamente automático
The
GMAS140MC-1A
will retail for $120 and will be available for purchase starting this March at gshock.com, G-SHOCK Soho Store, and select G-SHOCK retailers including Macy's.
# # #
Acerca de G-SHOCK
El reloj G-SHOCK de Casio, resistente a golpes, es sinónimo de dureza, se creó a partir del sue?o del desarrollador, el se?or Ibe, de "crear un reloj que nunca se rompiera". Más de 200 muestras hechas a mano se crearon y se probaron hasta la destrucción, pero finalmente en 1983, el primer G-SHOCK, ahora icónico, llegó a las tiendas de Japón y comenzó a establecerse como "el reloj más resistente de todos los tiempos". Cada reloj reúne los 7 elementos: resistencia a impactos eléctricos, resistencia a gravedad, resistencia a bajas temperaturas, resistencia a vibraciones, resistencia al agua, resistencia a golpes y dureza. El reloj cuenta con innovaciones y tecnologías de Casio para evitar que sufra golpes directos, lo que incluye componentes internos protegidos con uretano y módulos de cronometraje suspendidos en la estructura del reloj. Since its launch, G-SHOCK has continued to evolve, continuing to support on Mr. Ibe's mantra "never, never give up."?
www.gshock.com/home.
Acerca de Casio América, Inc.
Casio América, Inc.; Dover, N.J., es la filial en los EE. UU. de Casio Computer Co., Ltd., Tokyo, Japón, uno de los fabricantes líderes en el mundo de soluciones de equipos comerciales y componentes electrónicos para el consumidor. Fundada en 1957, Casio America, Inc. comercializa calculadoras, teclados, dispositivos de presentación móviles, impresoras de etiquetas y títulos de discos, relojes, cajas registradoras y otros productos electrónicos de consumo. Casio has strived to realize its corporate creed of "creativity and contribution" through the introduction of innovative and imaginative products. For more information, visit?
www.casio.com
About MISCHIEF
MISCHIEF is a subculture based casual streetwear brand from Seoul. Collaborating with a broad spectrum of brands and local artists, MISCHIEF actively contributes to the local fashion industry and cultural arts.