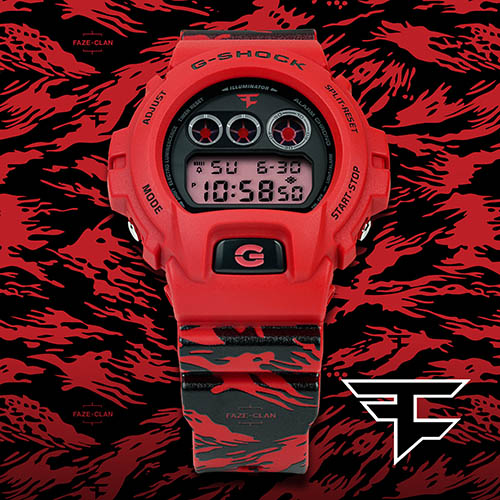 PARA PUBLICACIóN INMEDIATA:
CASIO UNVEILS LIMITED-EDITION TIMEPIECE IN COLLABORATION WITH WORLD-RENOWNED ESPORTS GAMING TEAM FAZE CLAN
Introducing an Updated DW6900 Model with Customized, Red Band and Packaging
DOVER, NJ, noviembre 24, 2020
— Today, Casio
G-SHOCK
pays homage to one of the world's most prominent and influential gaming organizations, FaZe Clan, with a custom DW6900 timepiece. The limited-edition collaborative timepiece is cloaked in FaZe Clan's signature red tiger camo print paying homage to the early days of FaZe Clan when members would have red tiger camo skins on their in-game sniper rifles. The case back features an engraving commemorating FaZe Clan's 10-year anniversary this year.
The new
DW6900FAZE20-4CR
model also comes with customized packaging in a sleek, red tin and box featuring FaZe Clan's red tiger camo and boasting the FaZe Clan logo.
"G-SHOCK is a brand that all of us grew up on," says FaZe Clan's VP of Marketing Taav Cooperman. "We loved the idea of bringing it into our world and creating something tangible with this special collaboration, giving some of our gaming culture to the iconic brand we love so much."
This collaboration comes on the heels of several successful partnerships that FaZe Clan has teamed up on in the past year, working with brands like Anti Social Social Club, The National Football League and Beats by Dre.
The limited-edition DW6900 timepiece boasts the brand's iconic triple-graph face design and staple functions such as a Flash Alert and one-of-a-kind EL backlight that displays "FAZE UP" within the digital display when lit.
The DW6900FAZE20-4CR also comes equipped with G-SHOCK technology including:
Resistencia al impacto
Resistente al agua a 200 m
Alerta flash
Retroiluminación EL con incandescencia posterior
Cronómetro 1/100 segundos
Multi Function Alarm
Temporizador de cuenta regresiva
12/24 Hr. Time Formats
The
DW6900FAZE20-4CR
will retail for $150 and be available for purchase starting noviembre 27, 2020 at the G-SHOCK Soho Store,
fazeclan.com
, and
gshock.com
.
# # #
Acerca de G-SHOCK
El reloj G-SHOCK de Casio, resistente a golpes, es sinónimo de dureza, se creó a partir del sue?o del desarrollador, el se?or Ibe, de "crear un reloj que nunca se rompiera". Más de 200 muestras hechas a mano se crearon y se probaron hasta la destrucción, pero finalmente en 1983, el primer G-SHOCK, ahora icónico, llegó a las tiendas de Japón y comenzó a establecerse como "el reloj más resistente de todos los tiempos". Cada reloj reúne los 7 elementos: resistencia a impactos eléctricos, resistencia a gravedad, resistencia a bajas temperaturas, resistencia a vibraciones, resistencia al agua, resistencia a golpes y dureza. El reloj cuenta con innovaciones y tecnologías de Casio para evitar que sufra golpes directos, lo que incluye componentes internos protegidos con uretano y módulos de cronometraje suspendidos en la estructura del reloj. Since its launch, G-SHOCK has continued to evolve, continuing to support on Mr. Ibe's mantra "never, never give up." www.gshock.com.
Acerca de Casio América, Inc.
Casio América, Inc.; Dover, N.J., es la filial en los EE. UU. de Casio Computer Co., Ltd., Tokyo, Japón, uno de los fabricantes líderes en el mundo de soluciones de equipos comerciales y componentes electrónicos para el consumidor. Fundada en 1957, Casio America, Inc. comercializa calculadoras, teclados, dispositivos de presentación móviles, impresoras de etiquetas y títulos de discos, relojes, cajas registradoras y otros productos electrónicos de consumo. Casio has strived to realize its corporate creed of "creativity and contribution" through the introduction of innovative and imaginative products. Para obtener más información, visite www.casio.com.
About FaZe Clan
Since its inception in 2010, FaZe Clan has established itself as the world's most prominent and influential gaming organization known for its disruptive original content and hyper-engaged global fanbase of 230 million combined across all social platforms. FaZe Clan holds an unrivalled position at the epicenter of gaming, sports, culture and entertainment, driving how the next generation consumes content, plays and shops. Their roster of 85 influential personalities consists of world-class gamers, engaging content creators and a mix of talent beyond the world of gaming, including NBA star Ben Simmons, LeBron "Bronny" James Jr. and Lil Yachty. The organization's unmatched esports division includes eight competitive teams in Fortnite, FIFA, PUBG, PUBG Mobile, Rainbow Six, Call of Duty League (Atlanta FaZe), CS:GO and VALORANT with dozens of world championship trophies among them. In addition, FaZe Clan has become a sought-after fashion and lifestyle brand through an inspired apparel line and limited-edition collaborations with partners including Champion, NFL, Manchester City FC, Lyrical Lemonade, Kappa, CLOT, LA Kings, and more. Follow us @FaZeClan, @FaZeApparel and @FaZeUpdate.