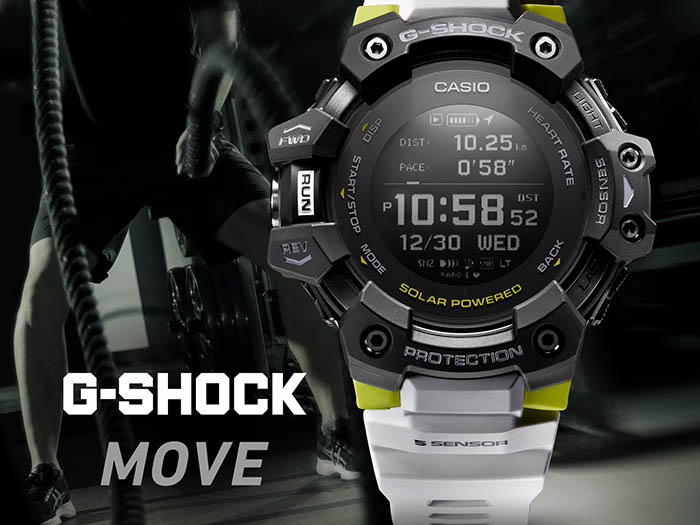 PARA PUBLICACIóN INMEDIATA:
G-SHOCK Debuts First-Ever Model Featuring Built-In Heart Rate Monitor
New Timepiece Features Absolute Toughness + Multi-Sensor Technology to Improve Training Efficiency
DOVER, NEW JERSEY, abril 7, 2020
— Today, Casio G-SHOCK announced the release of the GBDH1000, the brand's first-ever timepiece equipped with a built-in heart rate monitor.
The
GBDH1000-1A7
, comes in a sleek and stylish white, black, and neon exterior and combines the toughness the brand is known for with key functions to support workouts. The heart rate monitor displays the current heart rate, as well as a heart rate zone that shows exercise intensity at five stages, (Recovery, Base, Cardio, At Threshold, and Maximum), and is useful for pace management during activities and endurance training. G-SHOCK Move also estimates VO2max, which measures the maximum rate of oxygen consumption as a benchmark for cardiorespiratory ability when the user is trying to build endurance for running or other sports. This is achieved by using an algorithm from Firstbeat Technologies. The
GBDH1000-1A7
is the first Casio device to integrate advanced performance analytics from Firstbeat.
The timepiece has five-sensors to help track your fitness activity in real time. In addition to an optical sensor that can measure heart rate by detecting the blood flow under the skin, a triple sensor measures altitude/barometric pressure, compass bearing, and temperature, and a 3-axis accelerometer detects body movement to measure step count and distance traveled. The new watch comes with GPS functionality that acquires location information and measures speed, pace, and other data; the GPS also includes GLONASS support to boost accuracy and connection speed.
In terms of style, the new timepiece boasts large non-slip buttons, curved back cover wings that ensure a smooth fit on the wrist, a soft urethane band, and MIP LCD that can display more data in high contrast for easy viewing. The timepiece also features Bluetooth? connectivity via a new G-SHOCK Move App, which will be unveiled on May 21, and allow users to manage measurement data and training history as well as calls, emails, and SNS message notifications even while exercising. In addition to USB charging, which after about 2.5 hours of charging allows training features to be used continuously for up to 14 hours, the watch also offers solar-assisted charging for daily use and a vibrating notification function for training and Smartphone alerts.
As part of the release, G-SHOCK has unveiled an exclusive landing page taking consumers through the user experience, which can be viewed
HERE
.
In addition to key training functions, G-SHOCK Move also includes G-SHOCK features and capabilities, such as:
Resistente a golpes
Resistente al agua a 200 m
Full Auto LED Backlight
1/100 second Stopwatch (100 Hr.)
Countdown/Interval Timer
4 Daily Alarms with Snooze Alarm
Vibration Alert
Hora mundial (38 ciudades + UTC)
12/24 Hr. Time Formats
The
GBDH1000-1A7
, which is accompanied by an all-black version
GBDH1000-1
, will retail for $399 and will be available for purchase starting in Mid-May at select G-SHOCK retailers including Macy's, G-SHOCK Soho Store, and gshock.com.
# # #
Acerca de G-SHOCK
El reloj G-SHOCK de Casio, resistente a golpes, es sinónimo de dureza, se creó a partir del sue?o del desarrollador, el se?or Ibe, de "crear un reloj que nunca se rompiera". Más de 200 muestras hechas a mano se crearon y se probaron hasta la destrucción, pero finalmente en 1983, el primer G-SHOCK, ahora icónico, llegó a las tiendas de Japón y comenzó a establecerse como "el reloj más resistente de todos los tiempos". Cada reloj reúne los 7 elementos: resistencia a impactos eléctricos, resistencia a gravedad, resistencia a bajas temperaturas, resistencia a vibraciones, resistencia al agua, resistencia a golpes y dureza. El reloj cuenta con innovaciones y tecnologías de Casio para evitar que sufra golpes directos, lo que incluye componentes internos protegidos con uretano y módulos de cronometraje suspendidos en la estructura del reloj. Since its launch, G-SHOCK has continued to evolve, continuing to support on Mr. Ibe's mantra "never, never give up."
www.gshock.com/home.
Acerca de Casio América, Inc.
Casio América, Inc.; Dover, N.J., es la filial en los EE. UU. de Casio Computer Co., Ltd., Tokyo, Japón, uno de los fabricantes líderes en el mundo de soluciones de equipos comerciales y componentes electrónicos para el consumidor. Fundada en 1957, Casio America, Inc. comercializa calculadoras, teclados, dispositivos de presentación móviles, impresoras de etiquetas y títulos de discos, relojes, cajas registradoras y otros productos electrónicos de consumo. Casio has strived to realize its corporate creed of "creativity and contribution" through the introduction of innovative and imaginative products. For more information, visit
www.casio.com