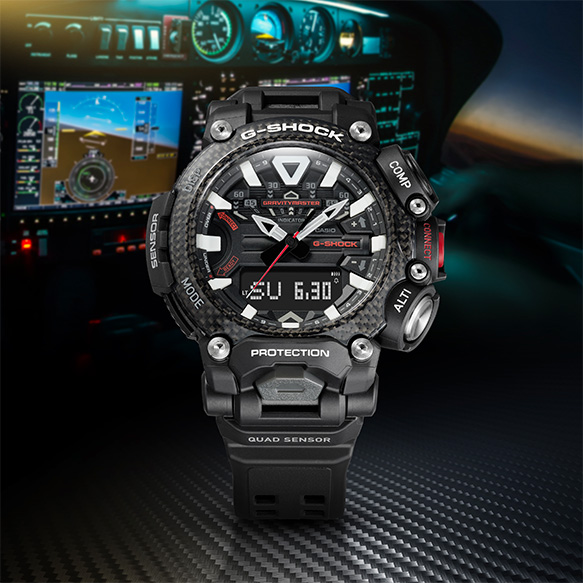 PARA PUBLICACIóN INMEDIATA:
G-SHOCK UNVEILS NEW GRAVITYMASTER TIMEPIECE FOR AVIATION PROFESSIONALS
Three New Colorways Arrive in Tough Carbon Core Guard Structure and Unique, Large Button Design for Improved Ease of Use
DOVER, NEW JERSEY, septiembre 3, 2020
— Today,
Casio
introduces an all-new model to its popular
G-SHOCK
Master of G collection of men's tactical watches, Designed with aviation professionals in mind, the GRAVITYMASTER, GRB200 boasts three colorways with a unique Carbon Core Guard construction, carbon-infused resin bezels and resin bands in black (
GRB200-1A
), orange (
GRB200-1A9
)or blue (
GRB200-1A2
) to provide elevated strength and durability in lightweight cases.
The new GRB200 packs essential functions and all the accuracy and functionality required for flight. Its carbon core guard structure protects the module with a resin case reinforced with carbon fibers. In addition, the model features a brand new and unique button design with large buttons set at different angles and shapes arranged in a way to resemble a fighter jet control stick with powerful button guards to prevent operating errors while wearing gloves.
The GRB200 has G-SHOCK's most-premium features, including a Carbon-insert Bezel that's engineered with a three-layer structure to provide the utmost strength and capability to withstand harsh conditions pilots handle on a daily basis. The top layer is semi-transparent to reveal the carbon construction inside.
Packed with a number of technology features, the GRB200 offers tactical functions for all level of aviation enthusiasts. When synced with a Bluetooth?-connected smartphone, via the G-SHOCK Connected App, the GRB200 offers a Mission Log function that records altitude points from the watch and GPS points from the phone. The Calorie Consumption Display calculates data from the step counter and takes altitude measurement into account. The Location Indicator records a current location on the app, and the watch acts as a backtracking device by pointing to the location with the second hand and showing the distance on the LCD display. The watch automatically adjusts the time through the Bluetooth connection and has a phone finder function. The menu mode on the LCD display is also customizable. All these features are accessible and easily viewed on the G-SHOCK Connected smartphone app.
The GRB200 arrives with updated features like automatic compass correction capabilities, two-year battery life, and Quad Sensor technology that includes a compass, thermometer, altimeter/barometer, and step tracker, making it easy and reliable for pilots to use under any situation.
As part of the release, G-SHOCK has unveiled an exclusive landing page taking consumers through the features, which can be viewed
HERE
.
The newest addition to the GRAVITYMASTER collection comes with additional standard G-SHOCK technology such as:
Resistente al agua a 200 m
Resistencia al impacto
Vibration Resistance
Double Super LED Lights
Manecillas y marcadores luminosos Neo-brite
World Time (38 Time Zones + 38 Cities + UTC)
Datos de amanecer y atardecer
1/100th Sec. Stopwatch (24Hr)
Temporizador de cuenta regresiva
5 alarmas multifunción
12/24 Hr. Time Formats
Calendario completamente automático
The GRB200 will retail for $350 and will be available for purchase this September at select G-SHOCK retailers, the G-SHOCK Soho Store, and
gshock.com
.
# # #
Acerca de G-SHOCK
El reloj G-SHOCK de Casio, resistente a golpes, es sinónimo de dureza, se creó a partir del sue?o del desarrollador, el se?or Ibe, de "crear un reloj que nunca se rompiera". Más de 200 muestras hechas a mano se crearon y se probaron hasta la destrucción, pero finalmente en 1983, el primer G-SHOCK, ahora icónico, llegó a las tiendas de Japón y comenzó a establecerse como "el reloj más resistente de todos los tiempos". Cada reloj reúne los 7 elementos: resistencia a impactos eléctricos, resistencia a gravedad, resistencia a bajas temperaturas, resistencia a vibraciones, resistencia al agua, resistencia a golpes y dureza. El reloj cuenta con innovaciones y tecnologías de Casio para evitar que sufra golpes directos, lo que incluye componentes internos protegidos con uretano y módulos de cronometraje suspendidos en la estructura del reloj. Since its launch, G-SHOCK has continued to evolve, continuing to support on Mr. Ibe's mantra "never, never give up." www.gshock.com.
Acerca de Casio América, Inc.
Casio América, Inc.; Dover, N.J., es la filial en los EE. UU. de Casio Computer Co., Ltd., Tokyo, Japón, uno de los fabricantes líderes en el mundo de soluciones de equipos comerciales y componentes electrónicos para el consumidor. Fundada en 1957, Casio America, Inc. comercializa calculadoras, teclados, dispositivos de presentación móviles, impresoras de etiquetas y títulos de discos, relojes, cajas registradoras y otros productos electrónicos de consumo. Casio has strived to realize its corporate creed of "creativity and contribution" through the introduction of innovative and imaginative products. Para obtener más información, visite www.casio.com.