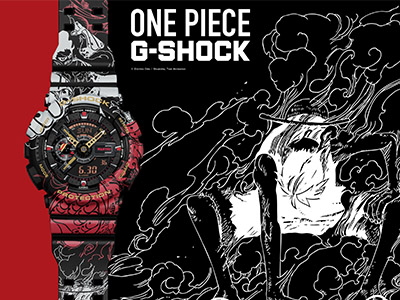 PARA PUBLICACIóN INMEDIATA:
G-SHOCK UNVEILS ONE PIECE COLLABORATIVE TIMEPIECE
Limited Edition Timepiece Brings the Exhilarant World of Anime to Life with Intricate Character Detail
DOVER, NEW JERSEY, julio 1, 2020
— Today,
Casio
announces the release of their limited-edition G-SHOCK x ONE PIECE collaboration timepiece, based on the luminary, bestselling Japanese teen magna series. The new, Luffy-inspired
GA110JOP-1A4
model stems from the brand's venerable digital analog GA-110 series.
In allegiance to the show's main character, Monkey D. Luffy, using black as the base color, the entire watch is emblazoned with dynamic illustrations of the main character, who is on a never-ending journey of growth and becoming stronger. The indicator of the inset dial in the 9 o'clock position features Luffy's straw hat as the design motif while the word "WANTED" is embellished on the 3 o'clock position. Also, when the hour and minute hands point to the 2 o'clock and 4 o'clock positions respectively, they combine visually with the two diagonal lines on the dial to form a golden "X". This represents the X-shaped scar on Luffy's chest, and also expresses the ONE PIECE love of adventure and treasure hunting in the smallest of details.
The watch band depicts a comic strip of the hero's signature battle poses as he embarks on an adventure to new worlds through a symbolic color palette of alternating streaks of black, white and red. The new model features a "G-SHOCK x ONE PIECE" logo on the case back and comes in a special package designed specifically for the collaboration.
As part of the release,
G-SHOCK
has unveiled an exclusive landing page and video taking consumers through the features, which can be viewed
HERE
.
The
GA110JOP-1A4
comes equipped with standard G-SHOCK technology including:
Resistencia al impacto
Resistente al agua a 200 m
Resistencia magnética
Auto LED with Afterglow
Calendario completamente automático
World Time (29TZ/48Cities +UTC)
4 alarmas diarias y 1 alarma con repetición
1/1000th Sec. Stopwatch (100Hr.) w/ Speed Indicator (Max 1998unit/H)
Temporizador de cuenta regresiva
1/24 Hr. Formato
Mute Function
The
GA110JOP-1A4
will retail for $250, and will be available for purchase starting July 22 at select G-SHOCK retailers, G-SHOCK Soho Store, and
gshock.com
.
# # #
Acerca de G-SHOCK
El reloj G-SHOCK de Casio, resistente a golpes, es sinónimo de dureza, se creó a partir del sue?o del desarrollador, el se?or Ibe, de "crear un reloj que nunca se rompiera". Más de 200 muestras hechas a mano se crearon y se probaron hasta la destrucción, pero finalmente en 1983, el primer G-SHOCK, ahora icónico, llegó a las tiendas de Japón y comenzó a establecerse como "el reloj más resistente de todos los tiempos". Cada reloj reúne los 7 elementos: resistencia a impactos eléctricos, resistencia a gravedad, resistencia a bajas temperaturas, resistencia a vibraciones, resistencia al agua, resistencia a golpes y dureza. El reloj cuenta con innovaciones y tecnologías de Casio para evitar que sufra golpes directos, lo que incluye componentes internos protegidos con uretano y módulos de cronometraje suspendidos en la estructura del reloj. Since its launch, G-SHOCK has continued to evolve, continuing to support on Mr. Ibe's mantra "never, never give up." www.gshock.com.
Acerca de Casio América, Inc.
Casio América, Inc.; Dover, N.J., es la filial en los EE. UU. de Casio Computer Co., Ltd., Tokyo, Japón, uno de los fabricantes líderes en el mundo de soluciones de equipos comerciales y componentes electrónicos para el consumidor. Fundada en 1957, Casio America, Inc. comercializa calculadoras, teclados, dispositivos de presentación móviles, impresoras de etiquetas y títulos de discos, relojes, cajas registradoras y otros productos electrónicos de consumo. Casio has strived to realize its corporate creed of "creativity and contribution" through the introduction of innovative and imaginative products. Para obtener más información, visite www.casio.com.
About ONE PIECE
ONE PIECE is a hit Japanese teen manga series by Eiichiro Oda published in Weekly Shonen Jump magazine. Monkey D. Luffy is a young man who dreams of becoming a pirate king, and the tale of his dreams and friendships on his adventures seeking the grand treasure ONE PIECE is popular around the world. With its release in 1997, the manga series quickly gained a following and then debuted as a TV anime series in 1999. As a long-running series with a consistently strong fan base, ONE PIECE passed the 900-episode mark in 2019. The series has also generated a large number of theatrical releases, with the 14th and latest film in the series, ONE PIECE STAMPEDE, being the 2nd highest grossing in the ONE PIECE films.